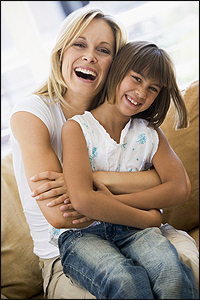 Porcelain white fillings are an effective, durable and attractive way to fill cavities and strengthen a decayed tooth. There are two types of white fillings: dental inlays and dental onlays. The size and location of the client's dental cavity will determine which type of procedure is necessary. Dr. Dan Haas will recommend a dental inlay if the cavity can be filled in the tooth cusps. If the decay is more extensive, a dental onlay, which covers the outside of the tooth, may be required.
Porcelain or composite white fillings are preferred over traditional silver mercury amalgam fillings for several reasons:
Less drilling is required to apply a tooth coloured filling so more of the natural tooth structure is preserved.
Porcelain white fillings are matched to the client's existing teeth so they are undetectable.
Porcelain white fillings do not expand and contract with temperature changes like metal fillings do, so the potential for cracking is reduced.
Porcelain and composite white fillings are bonded to the tooth, giving them added strength and functionality.
Porcelain white fillings harden as the dentist applies the material, allowing clients to use the teeth immediately after the procedure. Metal fillings require the client to wait a couple of hours before chewing on the filled tooth.
The procedure to implement a porcelain white filling, or indirect filling, will typically take two office visits. The dentist must first remove the decayed portion of the tooth and then create a mold of the tooth so the dental inlay or onlay can be custom-made in a laboratory. The client must return for a second visit so the created filling can be bonded to the tooth.
In contrast, the procedure for composite white fillings, also called direct fillings, can usually be done in one office visit.
Porcelain White Fillings and Extensive Tooth Damage
Clients who have extensive damage to a tooth may not be a candidate for a porcelain white filling. In these cases a dental crown may be required. When appropriate, however, Dr. Dan Haas prefers the use of dental inlays and dental onlays to dental crowns because less of the tooth's surface must be removed for these procedures. As a result the tooth retains much of its structural integrity.
If you suspect you have a dental cavity and would like to know more about the alternatives to silver mercury fillings and choose white fillings North York, please contact general cosmetic dentist Dr. Dan Haas and his qualified team today to schedule a consultation.