The use of lasers in oral health care has revolutionized the dental industry, allowing general cosmetic dentists to perform a wide variety of dental procedures more accurately, with minimal pain and quicker healing times. General cosmetic dentist Dr. Dan Haas uses both hard and soft tissue lasers in their North York dental office. Dr. Dan Haas is certified by the Academy of Laser Dentistry (ALD), which is the largest organization in the world devoted to laser dentistry.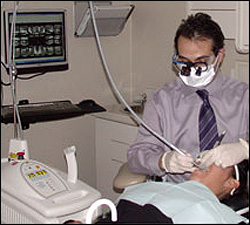 Shining a Light on Laser Dentistry
In dentistry, lasers allow dentists to pinpoint exact treatment areas with precisely the right amount of duration and exposure without damaging any of the surrounding areas in the mouth. Lasers have revolutionized nearly every part of dental medicine. This allows us to perform preventative and conservative treatments earlier to better protect your teeth.
Clients must simply wear special eye glasses during the laser procedure to protect their eyes from the laser beam.
Laser dentistry is used for a variety of dental procedures, including:
Gum Recontouring (Gum Lift)
Periodontal work
Tooth reshaping in restorative processes
Canker sore or venous lake treatment
Tooth whitening
Dental fillings