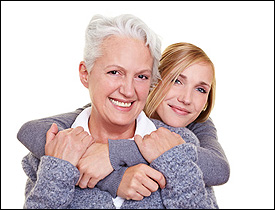 In the past, the only way to fill a dental cavity was through silver amalgam (mercury) fillings. Today, many general dentists and cosmetic dentists like Dr. Haas in Toronto shy away from using mercury fillings due to their potential health risks and unsightly nature. The preferred methods for cavity fillings are composite fillings or dental inlays and onlays.
Dental Inlays and Onlays Explained
A dental inlay or dental onlay can repair a mildly or moderately decayed or structurally damaged (cracked or fractured) tooth. Porcelain is a popular material used in this dental procedure; however, composite resin or other metals can be used. Our North York dental team prefers the use of lab fabricated reinforced resin due to its natural appearance and durability. In most cases, dental inlay and dental onlay restorations are undetectable, allowing clients to maintain a healthy looking smile regardless of dental cavities.
Difference between Dental Inlays and Dental Onlays
When a tooth is damaged or decayed on the top portion of the teeth, a dental inlay can be created to fit within the upper indentions or cusps of the teeth.
Tooth decay or damage that covers more than one of the tooth cusps will be better served by a dental onlay. The dental onlay is placed over the tooth for better reinforcement.
The Dental Inlay and Dental Onlay Process
The treatment process for dental inlays and onlays is very similar. After the decayed area of the tooth (or an old filling) is removed, an impression of the tooth is made so a customized inlay or onlay can be created in a laboratory setting. The inlay or onlay will be created to fit perfectly and can be matched to the client's existing tooth colour if porcelain or composite resin is used.
A temporary inlay or onlay is placed on the client's tooth while waiting for the customized piece to be delivered to our office. Once the custom-made inlay or onlay is received, the temporary one can be removed and the new fixture securely bonded to the tooth.