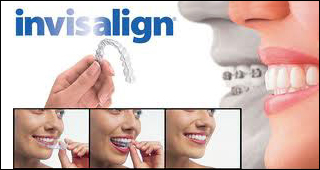 For decades, dentistry has addressed the problem of misaligned teeth through the use of metal braces. While metal braces are an effective way to correct teeth and bite positioning, advances dentistry have created a clear alternative, Invisalign.
How Invisalign Works
Invisalign uses computer technology and a precise custom molding process to create a set of clear, removable 'aligners' that are changed every two weeks. Each aligner is shaped differently in order to gradually move your teeth into their ideal position. An average treatment usually takes one year but can be as short as six months.
During an initial examination, Dr. Dan Haas will take X-rays, photographs, and digital scans of your teeth. This information is sent to Align Technology, Inc. (the Invisalign company), where a three-dimensional computerized model of your upper and lower teeth will be created. From this model, your custom set of aligners will be molded.
Advantages of Invisalign
The Invisalign aligners are made of a thin, optically clear plastic, providing you with a cosmetic benefit. Especially for adults who normally might hesitate to wear braces at all. Since the aligners do not contain any wires, brackets or springs, Invisalign also tends to produce far less soft tissue irritation than traditional braces.
Invisalign aligners are removable. Many times, it can be difficult for clients to maintain proper oral hygiene when they are forced to work around the cumbersome metal wiring of traditional braces. With Invisalign, you can remove your aligner whenever you need to eat, drink, brush, or floss.