October 2017: Tips, ENews & More!



With the warm days now behind us and the days getting shorter, some of us are already counting down to the next summer.

This past summer Dr. Dan and his family traveled to Israel. They did a tremendous amount of sightseeing and visited the many cousins, uncles and aunts they have. Even though the temperature was extremely hot (as high as 50 degrees at the Dead Sea) they all had a fantastic time.




Dr. Dan recently managed a get away to Cleveland to visit a friend he went to high school and undergrad university with. They hadn't seen each other in 25 years. Cleveland may not sound like an exciting destination, but he loved it. He had a great time because he got to see his old friend and he went to his first ever NFL game. However, what made it even more wonderful was he got to go without his kids. Being kids free is always a well deserved break.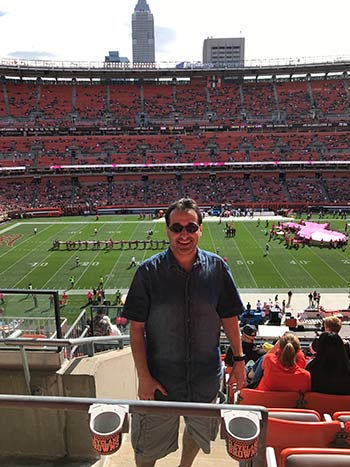 Celia had some busy summer months. Her daughter celebrated her confirmation and they all commemorated the special occasion with family and friends. During the month of July they went to Portugal for some well deserved relaxation time. While there they went to two of Celia's cousins weddings and it was so nice to be surrounded by all the family members that they don't get to see on a regular basis. They also managed to squeeze in some time to go down to the Algarve (a city in the south of Portugal) for four days where they spent their time on the beach soaking in the sun and enjoying the wonderful salt water.
Jasmine had a summer filled with fun, choosing to spend it with friends and family. Her summer ended with a bang, as she celebrated her birthday on a boat cruise and took in the beautiful light filled Toronto skyline. Now she is ready to take on autumn and the impending winter. Like one of the taglines of her favorite television show: "winter is coming."
Sadia enjoyed her summer break hiking and laying by the beach in California with her mom. Her big brother finally got married therefore she spent lots of time planning the wedding. All that hard work resulted in a magical beach wedding in Duhamel, Quebec.
Antonella and her family had a great summer enjoying all the rain! It was so much fun to watch Adriano in all his soccer games. Isabella, Andrew and Gabriella had fun at their dance workshops. Getting back to routine was not easy as they all enjoyed sleeping in during the summer months.
Diana was able to get away for a week in May to Punta Cana with her family. She enjoyed her vacation and is already looking forward to the next one. Hopefully she can make it out to Europe in 2018.
The Haas Dental Team